Yes you read it right. I am the one who is washing my own clothes. Who else would do that? If you will answer "your mom!", of course not. But I admit when I was young, she used to wash it but now that I'm a little bit older, whether I like it or not, I have to wash my own garments. As far as I can remember, I started washing my own clothes when I was in my first year in high school. Back then, I wash my school uniforms and other clothes. Whew, I know almost all of you would agree when I say, washing clothes with or without washing machine is a tiring task. Right? That's why sometimes I only choose the clothes that I will wash for that particular session and choose clothes just enough that I have something to use whenever I go to school. Crazy huh? That's what I did just a while ago. Hahahaha. And oh, right now, my hands are actually aching (*sobbing). Actually, I just used my hands in washing some of my clothes today! That's why, I am having this mild bruises in my fingers and hands. But the pain is bearable so you don't have to worry. I will get better.
For the meantime, let me share to you some cool comics about blogs. I found this one while dropping my EC cards (thank God I finished my 600 today). I laughed my brains out when I was reading this LOL comics! Check it!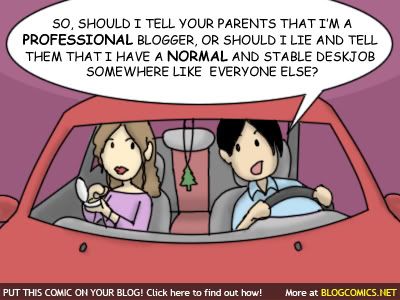 Cool huh? My
favorite
is the third one! LOL! What's yours?
For more just click the pictures! Enjoy!