Wow! This is a very nice tag! I love its title so I decided to accept it. Actually, I got three of this from my three online ates namely,
Ate Common Sense
,
Ate Aeirin
and
Ate Carlota
! Thanks to you!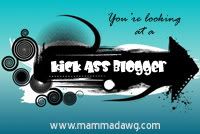 Do you know any bloggers that kick ass?
Maybe they've got incredible, original content. Or they're overflowing with creativity. Is it someone that helps you become a better blogger? Or a bloggy friend you know you can count on? Or maybe it's someone who simply inspires you to be a better person... or someone else who sends you to the floor, laughing your ass off.
Whatever the reason may be, I'm sure you know at least a couple of bloggers that kick ass. Well... why not tell 'em so?
LOVE ON 'EM
Choose 5 bloggers that you feel are "Kick Ass Bloggers"
Let 'em know in your post or via email, twitter or blog comments that they've received an award
Share the love and link back to both the person who awarded you and back to www.mammadawg.com
Hop on back to the Kick Ass Blogger Club HQ to sign Mr. Linky then pass it on!
Wohooo! I am very happy to inform you ate
JOY
, ate
NANCY
, ate
FAYE
, nanay
BELEN
and
RITZ
that I consider you as a kick ass blogger! Hehehehe! Happy Life!
Pass this to your friends too!